Belvedere Sailing Society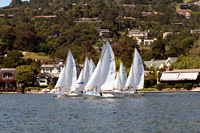 The Belvedere Sailing Society is a sailing and a social club open to residents of Belvedere. Itís great if you like to sail, watch the sail boats, or just join us for the parties. Events occur year-round with a summer sailing season including Lido and Laser races on the Lagoon. Racing begins with the Opening Day on the Lagoon, which usually follows Opening Day on the Bay by a week or two. Parties abound as the sailing season officially begins. Races continue May through October on Thursday evenings (Lasers) and many Sundays (Lido 14s). Championships are held in September and October. Non-sailing members enjoy numerous social events throughout the year including Progressive Dinners and Holiday parties.
A Bit of History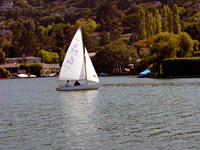 In 1903, the City of Belvedere paid the County Assessor $2000 to extend the city limits to the rotting piers of the drawbridge at the base of Corinthian Island and pay for a new bridge. Thus the charming community of about forty Arks floated under the new drawbridge into their summer party world in the Belvedere Cove. The "Nights of Venice" was the highlight of this festive season. The Arks and the homes on both Corinthian and Belvedere Islands were gaily lit and decorated. Masks and costumes, dinners and dancing, climaxed the season. The drawbridge was again raised in the fall and the Arks returned to the shelter of the Lagoon. In September 1953, the first Lagoon Regatta Days were held. Decorated boats paraded past homes that were decorated and hosting parties. The Belvedere Sailing Society has continued this spirited activity.
2017 SCHEDULE
May 13, 2017 - Member Opening Day Evening Party, 6 pm.
For details, please email belvederesailingsociety@gmail.com.


May 14, 2017 - Opening Day on the Lagoon Festivities

2 pm - Lido races
1-5 pm - Party Barge with Band covers entire lagoon

Other events to look forward to:

Progressive Dinner

Summer or Fall Celebration

Holiday Party

Awards Dinner - March 2018

2017 SAILING SCHEDULE
The racing schedule below is subject to change. Please make sure that the BSS has your
current email address so you can be informed of any changes.



- Weekly Laser races on Thursday night start at 7 pm; contact Rich Bergsund at BSSPortCaptain@gmail.com to be added to the email distribution list.

- Weekend Lido race schedule can be obtained by emailing bsslidofleet@gmail.com.

- Championships for each class will be scheduled in September and October.

NEED A BOAT?

For those interested in the current inventory of boats available for purchase, please contact Port Captain Rich Bergsund at BSSPortCaptain@gmail.com.

Membership
Membership is open to all Belvedere residents who enjoy sailing or watching sailing on the Belvedere lagoon and socializing with their neighbors. General membership dues are $50 per household per year and include a BSS Membership Roster, notification of activities, and invitations to all social events. An additional $30 per year is assessed members who wish to join the Lido Fleet, who may participate in the Lido race events as sailors, race committee, or spectators, and attend the post-Lido race cocktail parties. These parties are hosted by BSS members and are a great way to socialize with your neighbors. Contact any BSS officer for more information and encourage your new neighbors to join the fun.
To download a membership form, please click here.
2017 B.S.S. Officers
Commodores


Kirstin Hoefer & Robert Brown
415-889-5724 or belvederesailingsociety@gmail.com



Treasurer
Debbie Fisher
415-435-6366 or debatrickworld@gmail.com

Lido Fleet Captain
Bill Deer
415-889-5152 or edwindeer@gmail.com

Port Captain
Rich Bergsund
BSSPortCaptain@gmail.com